Partners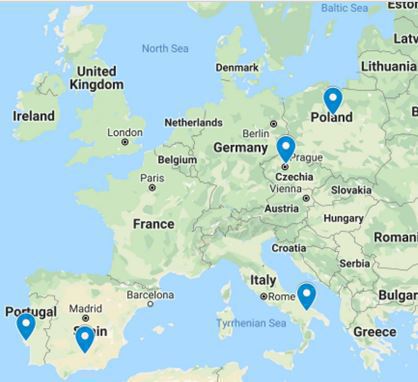 We are a partnership based on a matter of interest (languages, CLIL, ICT tools, project based learning, innovative methods…etc) . Three of our partners have got experience with running Erasmus+ projects and 2 partners are new in Erasmus + activities but also very motivated to learn. As we could see in project's preparation phase, especially the Italian and Portuguese school will help the new members to follow and will discuss any unclarities. New partners have got experience in running different kinds of projects (E-twinning, national projects… etc) and will contribute to project in other ways (ICT use, innovative methods, social inclusion).

Experienced partners will give special consultations to the new ones. Our italian partner is a previous coordinator so will be consulted with management issues. We all are experienced in partnerships via e-Twinning projects, we ́ve also run one eTwinning within this partnership School Partners will organise in their own schools an #ERASMUSDAY, in the second year of the project, during the official dates fixed at European level by the Erasmus+ N.A. to disseminate the project at local level to the school community and in general to stakeholders.

ADDED VALUE OF PROJECT PARTNERS
CR – will bring new experience on applying CLIL methods and some innovative approaches in using ICT tools .
POL – experience in running eTwinning projects. Experienced in using ICT tools in the classroom, coding, CLIL methods.
IT – experienced in previous Erasmus projects, their coordination. Will support the coordinator. Experienced in innovative teaching methods in languages.
POR – has gained experience in previous Comenius and Erasmus projects, using ICT (digital apps, tabcasts, coding) and is involved in innovative projects (for instance INCLUD-ED)
ES – brings new experience on attending special needs students and promoting values. Besides, they contribute with knowledge and expertise related with Cooperative Learning and G-Suite tools.